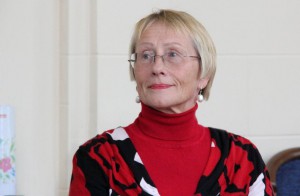 Vilnius University, Faculty of Philology
Department of English Philology
Universiteto str. 5, LT-01513 Vilnius
(+370 5) 2687 228
E-mail: aurelia@usonis.lt
Webpage

Aurelija has a vast theoretical and practical experience in scientific research coordination and implementation of projects. She was the coordinator of the compilation works of the Corpus of Academic Lithuanian (2007-2010) and the principal investigator in a number of other research projects:  Nongrammatical Evidentiality in the Baltic Languages: content, realizations and functions, Lithuanian Academic Discourse: Investigating Author Stance in Lithuanian Academic Discourse, Morphosyntactic Annotation of the Corpus of Academic Lithuanian (CorALit).
Aurelija also works closely with scientists and research groups in Lithuania, Latvia, Germany, Poland. Her research has spanned a range of topics dealing with contrastive syntax and semantics, corpus-driven linguistic analysis, verb complementation, epistemic modality, perception verbs, extension of meaning, semantic types of predicates, evidentiality (grammatical and non-grammatical). Aurelija's publications in international scientific journals include a number of contrastive studies on modality and corpus linguistics. She is curently involved in an international research project on evidentiality and modality: The expression of Evidentiality and Modality in English and other European Languages: Cross-linguistic perspectives EUROEVIDMOD.